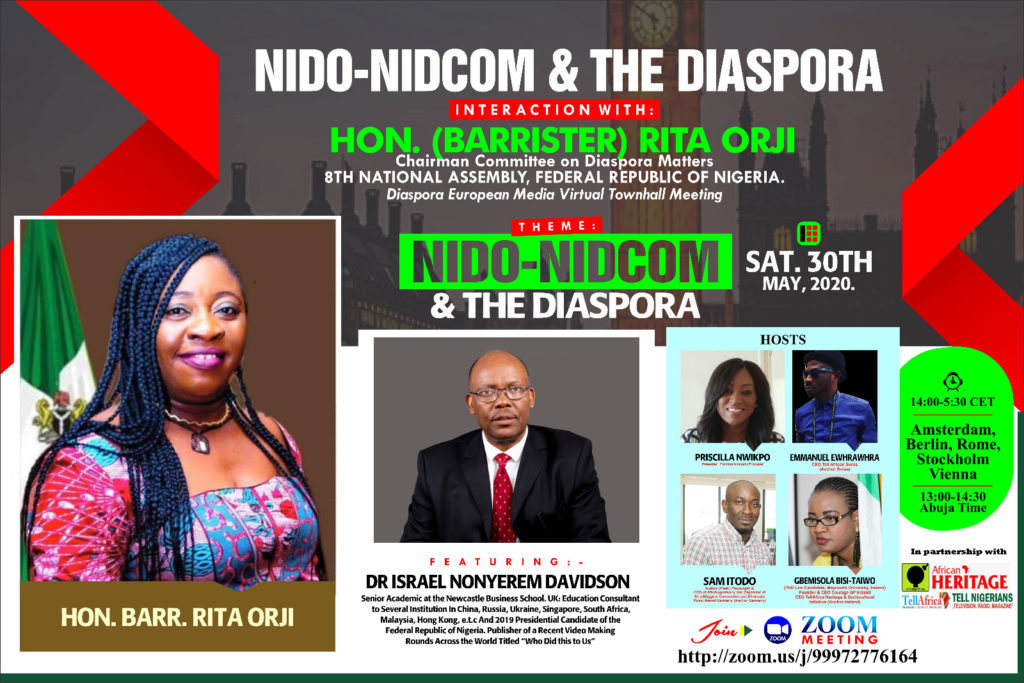 Nigerians in Diaspora in the Americas converged in a virtual town hall meeting on Saturday 9 May 2020 with Chairman Nigerians in Diaspora Commission, (NIDCOM) Mrs Abike Dabiri-Erewa. Ahead of the meeting, I sent the Honourable Chair some questions. On Saturday 30 May 2020 Nigerians in Diaspora in Europe are taking their turn for a follow up Virtual Town Hall Meeting with the Chairman House Committee on Diaspora of the 8th National Assembly, Hon. (Barr.) Rita Orji. Same questions, grosso modo, that I posed at the 9 May meeting are hereby tabled with Honourable Orji:
To what extent is NIDCOM legitimate, considering that more than a year after its establishment, its Board has not been constituted? What exactly is the problem?
How effective do you believe a lone Board member in the person of the Chairman, can be? Under what checks & balances can a lone Board member operate NIDCOM without effending the provisions of its Establishment Act?
It's alleged that some activities of those in Govt., have derailed strategic approach to Diaspora engagement e.g. by overtly/covertly encouraging set up of new Diaspora organisations, thereby defeating Gov. Diaspora Policy. To what extent are you involved in such divisive politics and how do you justify such behaviour?
Nigerian Diaspora is alleged not to be unified, in-fighting… What do you say to those who accuse you and your cohorts of engineering or supporting Diaspora disunity because it favours your political agenda? Is a strong Diaspora a threat to you & colleagues?
Don't you see any incompatibility, if not conflict of interest, in the two positions that run concurrently: Senior Special Assistant (SSA) to Mr President on Diaspora and at the same time Chairman of NIDCOM? Do we have any evidence that the position of SSA Diaspora has been relinquished?
Won't it be more value-adding for Nigeria, transparent, Good Governance as President Mohammadu Buhari advocates, if the role of SSA Diaspora & Chair NIDCOM are independent from each other and occupied by two different persons, not just one individual?
Nearly 20yrs after @NigeriaGov under President Olusegun Obasanjo established NIDO to unify Diaspora input in national development, there are calls for reform of the org. Some clandestine reform efforts have failed. Are aware of such failed attempts? What reforms do you want to see?
Collins Nweke
Belgium ??