I am honoured to offer some commentaries as a Reader at the book launch of Ben Ajuzie in Brussels, Belgium on Friday, 20 September 2019. I make bold to conclude that the work of fiction is an enrichment of the Belgo-Afro literary landscape.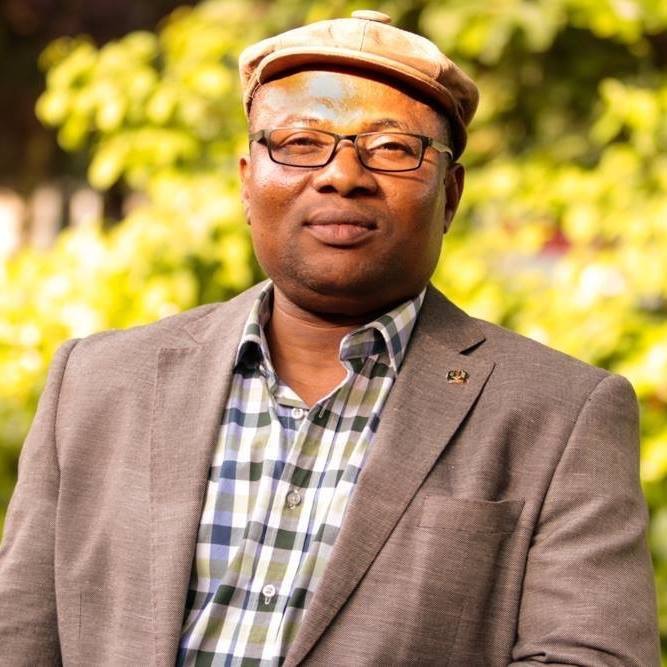 The world of literature will be richer on Friday 20 September 2019 with the official launch in Brussels, Belgium of the work of fiction "Sons of the Soil". Authored by Bernard (Ben) Ajuzie, himself a study in diversity, Sons of the Soil holds a mirror to humanity. Through this mirror we are able to view ourselves from diverse prisms. 
In reading even just a part of Sons of the Soila kaleidoscope of self-evaluating questions can't help but whirl up your head: am I the concerned father that also happens to be King of Sumanguru Kingdom, one of the principle characters of the over 300-page fiction? Do I best fit in the shoes of Gawiwy, Dr Banjo or Gabito, the master schemers? How much does Chubido, the loyal friend mirror my personality? Could it well be that my exterior defeats my inner calm, a different set of ambitions and a near zero sense of worldliness, making me the Prince Jeje of our time; heir apparent to the Sumanguru throne with no ambitions for the crown? How much does Chief Tirie represent my ambitious uncle, who would stop at nothing to get that which he sets his eyes on, undermining all and crushing everything that stands on his way?
In more ways than one, there are Sons of the Soil in us all, be it in our daily lives as ordinary mortals or as parts of a cabal that constitute present day politics and politicking or community set-ups. Considering that Sons of the Soil speaks candidly to us all, it is a reference work to own. 
As the saying goes, different strokes for different folks! Readers are bound to make their individual assessment of the literary style deployed by Ben in this latest work, either in isolation or in comparison with his first book "Southern Realities Northern Dreams". I for one see in Ben with his latest literary outing, a writer that is dramatically coming of age. I will not belabor you with neither volumes nor details but allow me the latitude to consider this oxymoron I extracted from page 301, and it reads "Chief Tirie laid face down and the earth appeared to shield it from the shame it refused to embrace when he was dealing other people…"  Before that, on page 300 to be precise, he had painted a literally picture of a Chief whose past would not let loose. Hear this "The Chief's latest fear was not his failure to achieve, but the idea that the gods are on the hunt following his vows before the oracles". Even poets and fans of poetry would have a field day with Sons of the Soil published by the National Library of Nigeria. An overzealous man had done everything and stopped at nothing to achieve his innocuous ambitions, knew that he had stepped on too many toes and made uncountable enemies. Will he be glorified, any legacy to celebrate? Perhaps not hence before drawing his last breath, he had this poetic rendition to spare:
"All who wish me gored
Are free to come forward
And party my end"
If I could indulge you a little more, allow me dwell for a brief moment on where the author, Ben Ajuzie derived the impetus to deliver such masterpiece of literature. As averred earlier on, Ben is a study in diversity. A Nigerian of Igbo extraction, his early influences are to be found in Limbe, West of the Cameroons, Accra and Anloga in Ghana where he enjoyed his secondary education before a homeward journey back to his home state of Abia in Nigeria. At the State University there in a semi-rural, semi-urban town of Uturu, he bagged a bachelor's degree in Food Science & Technology. Thereafter, like his character Jeje, a sojourn away from Africa, brought him to Belgium's Vrije Universiteit, Brussels for dual Masters, one in Human Ecology and the other a master's in educational research & Psychology. Ben's rich and diverse background is a baggage that informs but also enriches his literary outing.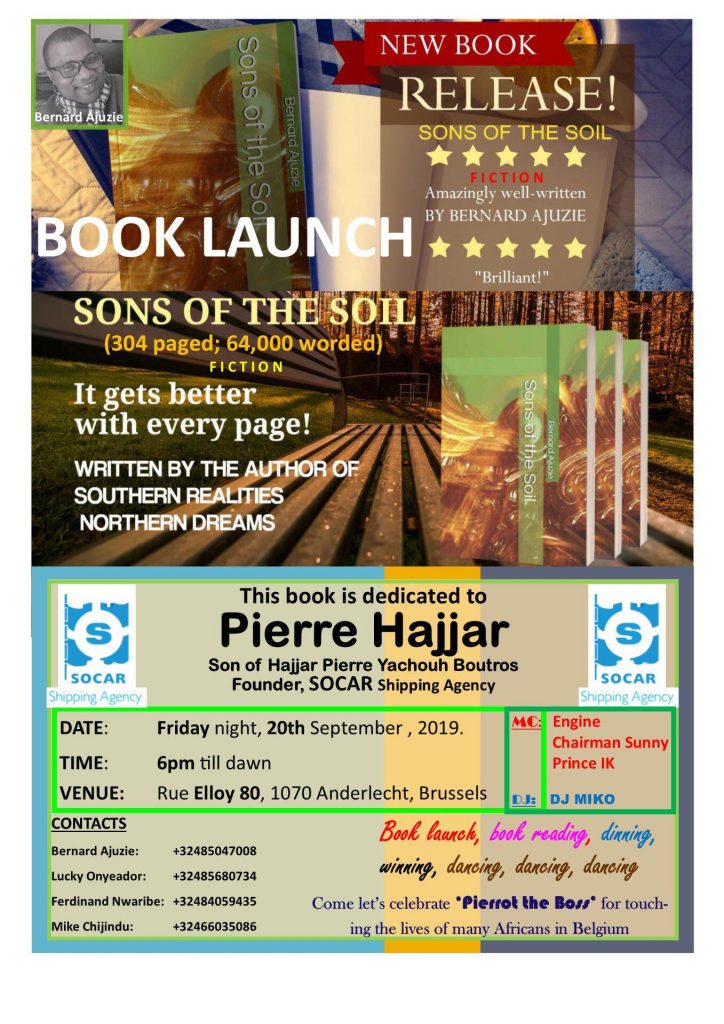 Worthy of final mention is the crossover elements in Sons of the Soil. The setting of the fiction may understandably be Africa, but the fact of the writer maturing in Europe is evident in his coinages, metaphors and the oxymorons that dot the novel here and there. It is only fair to assert that this work is an interesting, if not a curious addition to the Belgo-Afro literature, which at present is in its infancy. My assessment is that Sons of the Soil leaves the first-generation African Diaspora and their European friends and family with nostalgia while their children, the second-generation Diaspora, will find in the book, tales of the influences that shaped their dads and mums, uncles and aunties. 
Commentary by Collins Nweke
Ostend, Belgium